I can't believe I'm making so many R.I.P. blogposts that I lost count! I mean, so many celebrities are dying this year that it might as well be, unfortunately, 2016 all over again. With that out of the way, here's the bad news for Sinatra fans and everyone who is grateful:
Barbara Sinatra, the fourth and final wife of the late singer Frank Sinatra, died today at the age of 90 due to natural causes. As the cofounder of Barbara Sinatra Children's Center, a showgirl, and a model, she was a grateful, skilled, and beautiful woman, and the fact that we just lost such a graceful angel to Frank and everyone else in general just saddens me. I really hope Barbara Sinatra joins the other beauties that died over the course of history, like Marie Antoinette, Marilyn Monroe, and Shirley Temple, in a paradise made for the deceased called Heaven.
R.I.P.
Barbara Sinatra
March 10, 1927-July 25, 2017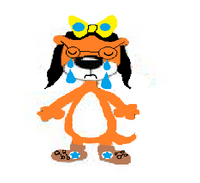 Community content is available under
CC-BY-SA
unless otherwise noted.