Bad news, everyone. Yet another beloved celebrity has passed away. This time, it's voice actress June Foray. She died earlier today at age 99, just two months from her centennial. Oh, no. She was so close to turning 100! Anyway, she's best known for the voices of Rocket J. Squirrel from Rocky and Bullwinkle, Jokey Smurf from The Smurfs, Grammi Gummi from Adventures of the Gummi Bears, Granny from Looney Tunes, and Magica De Spell from the 1987 version of DuckTales. Why did the world have to lose a talented, wonderful voice actress who did voicework on various cartoons for multiple generations? It's really unfair, and it breaks my heart as Rocky is my favorite Rocky and Bullwinkle character, and Foray did an excellent job at putting personality and life to the flying squirrel. I'm really sad to see Mrs. Foray go. Hopefully, she'll meet up with Bill Scott (the original voice of Bullwinkle J. Moose) in heaven for a Rocky-Bullwinkle reunion. I have consideration and respect for June Foray, and since she died, I expect you to kindly do the same no matter what.
R.I.P
June Foray
September 18, 1917-July 26, 2017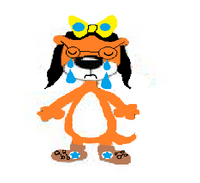 Community content is available under
CC-BY-SA
unless otherwise noted.